I just came in from watering the pots of veggies on my deck. It was such fun! I use a rolling walker so watering can be a challenge. Last year I shot water across my deck to fill the trays under my huge pots of veggies. But, that wastes a lot of water, even when my aim got really good.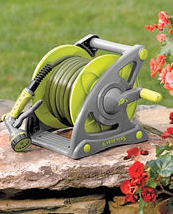 This year I bought a Compact Hose and Reel from Gardener's Supply, to see how it works. Well, it works GREAT. It makes watering the most wonderful experience.
First of all, the hose unwinds easily, so as I walk with my walker I don't have to struggle with extending the hose. The hose unwinds smoothly, and so easily. I just love it.
Second, the nozzle that comes with it is vastly better than my old nozzles, which until this one, I thought were as perfect, as good as they get.
What makes the Compact Hose and Reel's nozzle so wonderful is that it's easier to use, the lever is vastly easier to squeeze. On top of that, the nozzle has a dial so that you can select a strong stream of water, or a weaker one.
For me, the stream is far better than that from my other hoses and nozzles, which I think is because the hose is narrower, so the stream has more pressure, pushing it further.
So, you might think that would allow the water to tear into fragile plants. Not so. The nozzle has several water patterns to choose from including Mist which is fine droplets of water, not a foggy mist.
My favorite, however, is Center, which is a lot like shower but a stronger throw since there are fewer holes from which water emerges.
In addition to all of the above, the Compact Hose and Reel Set is visually attractive ~ really cute!
I have mine on the ground next to my deck, secured with some long L shaped things that came with my popup greenhouses. A long nail would work equally well to stabilize it.
There are holes that make it super easy to "fasten" the hose reel set to the ground. You could tightly secure it to your deck with screws, but for me, I prefer keeping it easy to re-position.
If you've been struggling with hoses when you water, and not loving the snaky mess of hose lying about when you finish, order this Super Wonderful compact hose set.
The rewind feature is as easy and smooth as the unwinding.
You'll love it, and be super happy you ordered it.