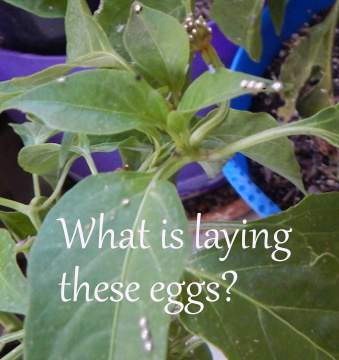 12/21/2018 ~ My plant room is warmer this year, thanks to additional rigid insulation, so I've had a few peppers from my plants even though it's winter. A problem has appeared, however. What are these white insect egg looking things? And, what's laying them?
I haven't seen any butterflies this year, to lay the eggs. In years passed when I brought in my kale plants I had butterflies all winter, which sounds fun, except they don't seem healthy when there's no direct sunlight, to speak of.
I'm not sure what is laying the eggs, but I've used a damp cloth to remove them.
1/30/2015 ~ My chili pepper has surprisingly woody branches at this point. It's stem is beginning to resemble a trunk. Well, probably more the "trunk" associated with a shrub than an oak. But still.
Last year at this time my pepper plant was one upright stem with a few leaves remaining from summer.
Up until yesterday when I trimmed off the weak branches with yellowing leaves, I had worried the many little branches would be unable to hold peppers come summer. To my surprise the little branches are quite strong. I nearly had to use secateurs to prune the pepper back, but in the end my Fiskars scissors worked.
The stake I put in to help support the pepper also seems a bit silly at this point, since the plant is so strong on its own. But, I'm leaving it for the time being.
I'm keen to see how well it produces this summer. Last year I had a chili pepper a day, sometimes two. So, to keep that up I'm going to have to be sure to enrich the soil… but not so much I burn the plant.
8/29/2014 ~ My pepper, in its second year, is going gangbusters! It slowed a bit in the hottest part of summer when it tended to dry out a bit between waterings, but now that the weather's somewhat cooler it's once again flowering and giving me one to two chilies a day. Happiness!
Now, I just wonder what kind of pruning you're supposed to do between years two and three.
7/21/2014 ~ My pepper may be tired of making peppers. There aren't any new flowers forming, and what were buds are turning yellow.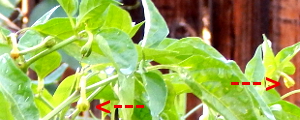 When the Avocado/Citrus fertilizer I ordered from Logee's arrived I added some to this pepper's pot.
I had previously added Yum Yum fertilizer which is organic and generally makes my fig happy, but as luck would have it some bird discovered a worm in the pot and dug furiously, sending most of the top, fertilized soil to my deck.
The thing about Logee's Avocado and Citrus fertilizer is that it's loaded with microbes to enhance the life of the soil. (I'm not sure how happy microbes are in pots, since apparently they create huge networks in the soil.) Mycorrhizae ~ Read more.
In any case, I'm hoping that in a week or so I have new buds forming. I love having a pepper a day!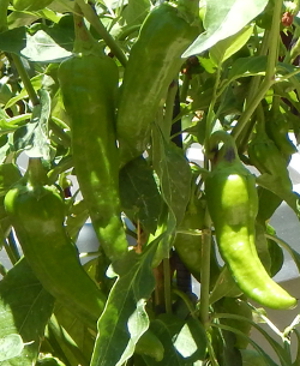 7/12/2014 ~ Yes indeed, peppers are perennials if they are brought in over the winter.
I brought mine in after a few nights of freezing temperatures, when next day they still looked alive and well.
They didn't look great all winter, so maybe they are a bit like deciduous trees, which lose their leaves in the fall and are dormant throughout the winter. In honesty, one of the two did not make it. It hadn't been a very strong plant to begin with, so maybe it wasn't looking forward to a life characterized by weakness.
In terms of water and fertilizer, I think water over the winter is good, not a lot, but a moist soil. Fertilizer may not be such a good idea.
I added rock dust and some organic fertilizer to mine, after which its leaves got a bit crinkled, as if something wasn't right.
As soon as I took it outside, after it was warm even at night, the plant really took off. You can see four chili peppers on just that one part of the plant. I've been adding peppers to my brown rice every day. And, as I pick them, more flowers appear.
You might want to try bringing in a pepper plant or two to see how you like them the second time around.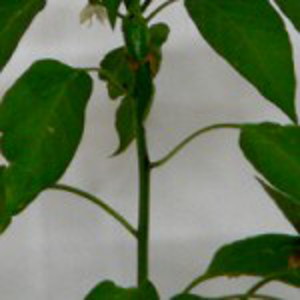 11/30/2013 ~ When my chilies, growing on the full shade side of my deck, didn't die after several freezing nights, I should have guessed that chili peppers are annuals only in cold climates.
My chili plant, in the picture, is teaching me a lot about growing vegetables indoors, in winter without direct window sunlight.
I was initially fixated on the lack of light in my living room, full of pots of garden vegetables, but as winter days passed, I began to notice that warmth was as big a factor as light.
What I mean is, almost everything written about growing peppers says they need bright sunlight. I'm sure sunlight, with its warmth, encourages strong, fast, healthy growth in peppers. Certainly my deck grown peppers grew largest in full summer sun, with water added to their trays morning and afternoon.
While the peppers that sprang up in the shade didn't make fully grown peppers during their outside life, on the other hand, one of them grew into a sturdy plant, and with luck, it will produce peppers early next year, due to being established.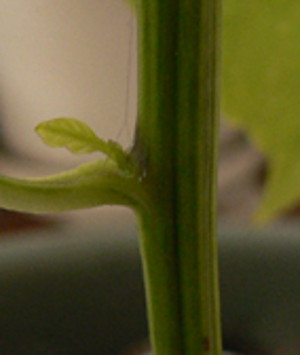 1/19/2014 ~ What's really interesting is that the chili pepper grew only minimally during the first two months indoors, but today the plant has new leaves appearing at the nodes. Nodes are the points on a plant's stem where leaves arise.
I've been keeping the living room in the 50* range, rather than letting the temperature sink into the mid 40s during the night. The new leaf may be in response to the warmer environment.
Today I'm going to sprinkle a good amount of rock dust on the surface of the soil around the plant, then cover it with soil so it doesn't stick to the tinfoil I'm using to maximize light.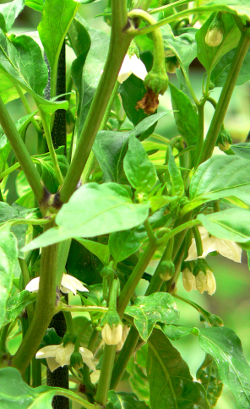 6/21/2014 ~ While I may have sprinkled too much rock dust, since for several months the chili pepper plant's leaves were a bit crinkled, overall the plant is doing totally dynamite outside. Look at the number of flowers it has, and that's just one small portion of the plant.
I'm hoping that the flowers all turn into peppers, I sure would love that.
As you can see, the leaves are no longer showing any signs of crinkling. So at this point I'm hoping the rock dust nutrients will provide the pepper with what it needs to mature each pepper.

Here's a view of the pepper plant's height. It's clearly a robust, well established pepper plant.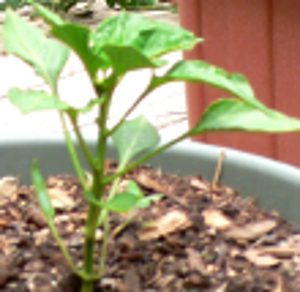 And, all I had to do was bring it indoors for the winter.
Meanwhile, this little pepper is a quite large pepper by standards of buying established plants from Burpee, Home Depot, etc.
Pretty big difference, right?
I'm not sure how much Solatube contributed to the results, but I'm viewing this as a Solatube Success. Read more.
Summary
Article Name
Description
Yes indeed, Peppers are perennials if you bring them in for the winter. And boy, does that give them a head start in producing peppers come the new year
Author
Publisher Name
Publisher Logo