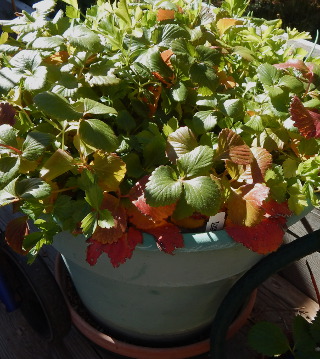 11/2/2015 ~ Strawberries that were planted in soil loaded with celery seeds did far better than strawberries that didn't have to fight celery for space.
I worried about the celery, with its strong, possibly domineering roots, which I say based on watching them take all the water in a pot with an avocado… that subsequently died.
To reduce the danger to my strawberries, everyday I pulled out a young celery plant, or two, to add to my brown rice.
That probably wasn't a bad thing, especially since they were tasty, but it turns out that strawberries appear perfectly capable of keeping control of what they need. At left is a picture of them today, all tidy in their pot, unlike the strawberries that had no celery with which to contend.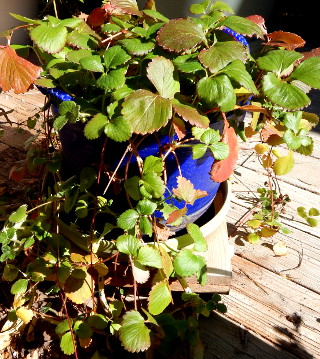 Strawberries alone in a pot sent out lots of messy looking runners and produced far fewer strawberries.
The tangle you see is about half the runners. The other half were allowed to root in smaller pots, then pruned from the mother plants and given away.
Today's dilemma revolves around the strawberries I took in for the winter last year. They did poorly and died before spring. The few strawberries they produced were tasteless. So, I'm wondering if I should have left them outside.
I hate to leave my beautiful pot of strawberries and celery outside, but it may be healthier for them. I don't know, and probably won't until next spring when I see the results.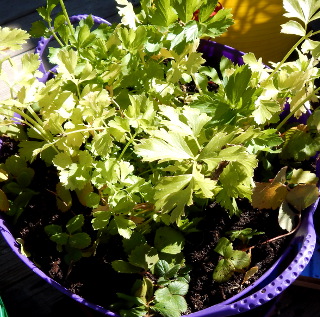 To tidy up my strawberry pots with runners, I pruned the runners and planted many around the edge of a pot with celery that I plan to bring indoors.
I don't know if the runners will grow without having had a chance to form roots while still attached to the mother plant. Time will tell.
I'm hoping that my new clear-on-clear skylights will give both the celery and the strawberries the kind of light they need to grow happily indoors over winter ~ My experience with LED grow lights was not very happy making, for me or my plants
.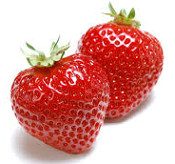 3/7/2015 ~ Year after year I ordered strawberries: from Parks, from Burpee, from American Meadows, and each year they all died.
Since I'm not one to give up, I went on to order strawberry plants in pots from Logee's. Those grew. I had strawberries. It was great.
But, having planted them in clay pots I was compelled to bring them in for the winter. The upside was that I happily looked forward to fresh strawberries in December compliments of these prolific plants and the red/blue LED plant lights I'd recently ordered from Amazon.
Indeed the strawberries kept flowering and making berries, but to my surprise, unlike the berries outside in summer, these had no taste.
I thought maybe if I added some soil with organic fertilizer… which I did, covering the crown of each plant just a little, thinking that among other things it would help them stay warm in my not-all-that-warm candle heated living room. And, they died.
Candle heating ~ Read more.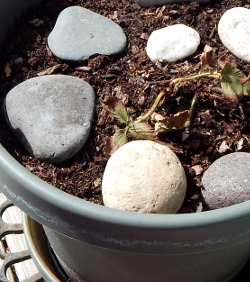 Luckily I didn't try to help a lonely little plant in a small plastic pot, other than taking it outside to my deck where it's survived days of snow and 11* nights… or has it.
Eager for another strawberry summer, I ordered more strawberry plants from Logees. They arrived this week, looking happy and healthy. I let them sit a couple days to recover from being shipped cross country. Then, today, they got planted into an 18″ pot with a mix of old soil, coir seedstarter, Yum Yum fertilizer and some Avocado and Citrus Fertilizer that has microorganisms in it.
I'm not sure if I should have taken them outside, but I did. I was thinking the strawberry from last summer was surviving outside, but, I may have wished that, rather than observed the truth.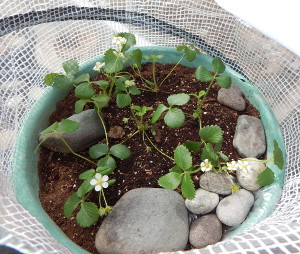 I put a small pop-up greenhouse over them. It's 18″ or maybe 19″ but in any case it was rather a tight squeeze putting it over the pot. I'm not sure the strawberries will get as much sun, but overnight I'm sure they'll like having some heat preserved from daytime.
Thinking in terms of preserving heat, I added some "black" rocks to the pot, to absorb heat. I read, sometime ago, about a woman who survived a plane crash because she brought in rocks that had been in the sun during the day. Their heat kept her "warm" during the night.
I put my remote thermometer into a baggie and hung it off the shady side of the pot. I'm curious to see how warm it will be come night.
Right now it's 67* outside, and 75* where the remote is reading the temperature of the strawberries pot.
Later ~ Happiness!!! When I went outside to zip the mesh cover in place over the strawberries, there was a bee going from flower to flower. I immediately wanted to order more strawberries. But, best I wait and see if they are happy after a night outside on the High Desert.
I moved the remote thermometer from the side of the pot where it touched both the greenhouse wall and the pot wall, to the center of the pot, where I buried it under about a quarter to half inch of soil. The remotes aren't supposed to be in direct sun.
Now it's not reading. I hope it's okay. It was reading a moment ago when it said 63* while outside, according to my larger weather station, it's 64*.
If it doesn't start reading again, soon, I'm going to guess it needs air to tell the temperature… and air has run out.
Upon removal of the dirt covering it, the remote worked. Happiness. So, now I just need to think of something to cover/shade it. If only I could go out and get one of those exotic drinks served with a little umbrella in it. Ha!. In actual fact, I think an old ladle may work. I'll try it tomorrow.
Relative Temperatures:
7:15 p.m. Outside 45* ~~~ Inside pop-up Greenhouse 50*
9:00 p.m. Outside 41* ~~~ Inside pop-up Greenhouse 47*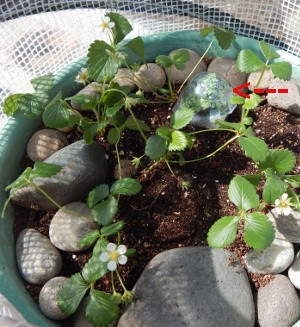 3/8/2015 ~ The remote thermometer wasn't working very well last night. It would work every couple of hours for a minute or two. So I didn't get the full set of readings I was hoping for.
Today the remote has freshly charged batteries and a little cover. The picture used to shade the remote, inside the dome, should have been on the outside of the clear plastic dome, so I'll need to change that. But, here's a picture at it is now.
12:30 p.m. Outside Temperature: 58* ~~~ In pop-up greenhouse: 73*
2:00 p.m. Outside Temperature: 61* ~~~ In pop-up greenhouse: 80*
3:30 p.m. Outside Temperature: 63* ~~~ In pop-up greenhouse: 65*
I zipped the top closed abut 3:00 p.m., thinking that would better contain the heat. Yesterday I left it open a lot longer because I didn't want the bee to be kept out if it wanted to go to the flowers again. Possibly it's warmer to leave the mesh top open when the sun is still shining, even if the pot is primarily in the shade.
5:00 p.m. Outside Temperature: 59* ~~~ In pop-up greenhouse: 57*
8:45 p.m. Outside Temperature: 43* ~~~ In pop-up greenhouse: 46*