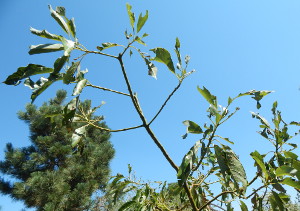 7/29/2018 ~ Hail has left my avocado tree a skeleton of its former self. There were more avocado leaves on my deck than on my tree. And, what leaves were left on the tree were shredded.
I used to love going out on my deck a sitting by my avocado. I loved that my avocado could shade my tomatoes that don't like the high desert sun as much as you might imagine.
The downside of my avocado was that it had not flowered, not one tiny flower, ever.
The horticulturist at Fast Growing Trees, where I bought it, said that many plants are more likely to flower if they feel their life is in danger. They want to reproduce so as not to go extinct. So, if that's true, my avocado should be flowering a lot come next spring. We'll see.