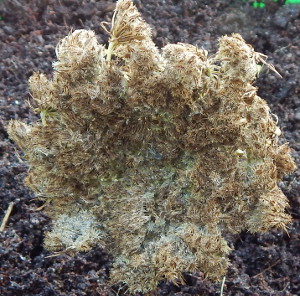 9/24/2015 ~ One of my carrot plants went to seed. There were masses of little white flowers that attracted tiny little bees. Sadly I either failed to photograph the little bees, or I can't remember where the photos are.
My carrots turned out so well that I'm planting a fall crop. I trust they'll be fine with falling temperatures given that they are a "cold weather crop".
As an aside, the carrot that went to seed was in a pot where it competed with peas, collards, radishes, and Indian spinach. My guess is that the carrot plant decided it was failing and its best bet was to create seeds in the hope that some of them would be planted where they could thrive.
If that was its wish, then today about 24 seeds fulfilled that wish. The only problem is that the seeds have a feathery halo which made it hard to determine which were the biggest and healthiest looking. If only my eyesight zoomed like my camera lens.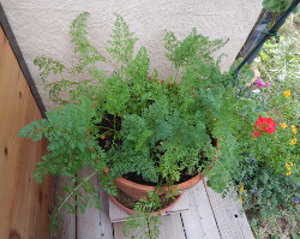 2/21/2015 ~ Last year I started carrots indoors in a large pot, then took them outside in time for severe winds to kill them. I should have checked the weather forecast.
I started more carrot seeds and was rewarded with a wonderful and beautiful crop.
This year I want two pots of carrots. One can grow in the mostly shaded corner between my elevated raised bed and the edge of my deck, shown in the picture, and the other can grow near the downspout from my deck's portal, also a mostly shady area.
In the past when I tried to grow carrots in full sun, as is often suggested, I had a zero survival rate. Here in the high desert, full sun is probably different than full sun in Wisconsin, for instance, where there's frequently humidity.
Providing adequate water to go with our 7,000 feet above sea level elevation, which appears to make the sunshine more intense in that it goes through less air, is a challenge.
Thom Culpepper, a friend on Twitter, suggested I use a layer of fine coco fiber as a bed for the seeds. Coco holds moisture more efficiently than peat moss. So, I'm going to go soak my fine, Coir Seedstarting Mix right now. Luckily I have a brick on hand.
This was Fun!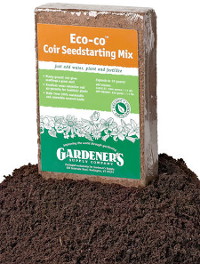 I put half the recommended water in a tubtrug and warmed it using all the hot water I had ~ I heat with candles so I often don't have a large amount of hot water to hand.
I set the Coir Seedstarting brick in the water, and … if only I'd been ready with my video camera. The top of the brick began to raise up in the tubtrug. It was great!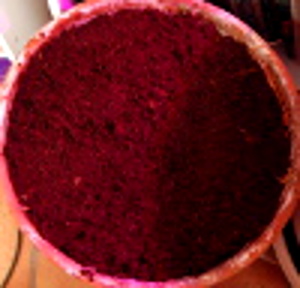 After I'd added enough water to moisten all the coir, I layered damp coir on top of the soil in one of my 18″ pots. The soil was freshly enriched with Yum-Yum Mix, a basically organic fertilizer.
I carefully dropped in carrot seeds, about as far apart as I wanted the carrots to grow. Last year I more or less threw the carrot seed in, with the result that seedlings appeared in crowds. I hated to kill any of them, so I transplanted instead.
When the carrots came into existence and I began pulling them for dinner, I noticed that a lot of them were double rooted. I wonder if transplanting them caused them to add an extra root.
Keeping the seeds Moist
I've ordered little pop-up greenhouses for my 18″ pots of carrots, but they haven't arrived. These greenhouses apparently have a mesh top, presumably best for people using them in somewhat humid areas. My area isn't humid, so a main reason for me to get pup-up greenhouses is to create humidity inside the vinyl "tent".

To work around the open mesh and create a solid top that will hold in evaporating water, I ordered a Saran Wrap type of film. This "cling film" is less than half the price of Saran on Amazon, presumably based on its less well known name.
It boasts a little cutter thing… that was rather puzzling to put into place. But once I understood the directions, which were actually very clear, it turns out to be super neat. Neat in the true sense of the word ~ a perfectly cut edge.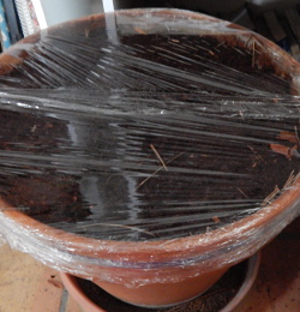 I had thought the cling film might stick to the top of the clay pot, but no. Since it likes sticking to more cling film like itself, I crumpled a long piece to be about the height of the pot's rim, then wrapped it around the top of the pot. That worked great! Next I cut two pieces of the cling film, using the nifty cutter, to cover the pot.
I'm not sure if I should make some holes for ventilation.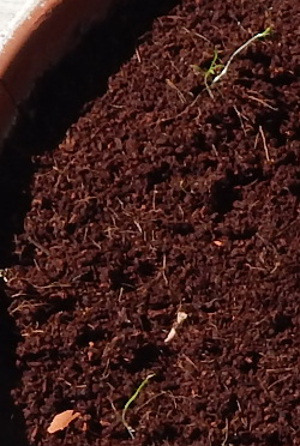 3/12/2015 ~ The cling wrap cover for the carrot pot has worked really well. But now the tiny seedlings seem to be stretching for light, making them abnormally tall.
I'm hoping that it's not too soon to take them outside, because that's what I'm going to do.
Last year I took my carrot seedlings outside where for an hour or so they were happy. I wasn't paying attention when a wind came up. By the time I noticed all the seedlings looked as if they'd been mowed down.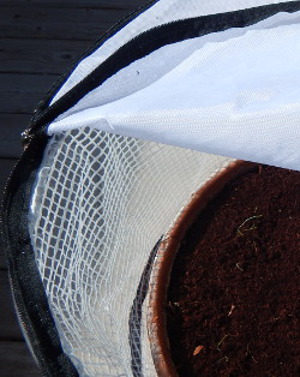 This year I ordered pop-up greenhouses from Gardeners's Supply. The greenhouses have a fine mesh cover and a superb zipper.
It's been close to an hour since I took the seedlings outside, protecting them with the pop-up greenhouse.
I'm going to go out and see how they are doing. I sure hope they are not all wilted and … dying.
Later ~ With the top zipped closed the seedlings have happily survived being placed in the full, high desert sunshine. So, I think these greenhouses are a Success!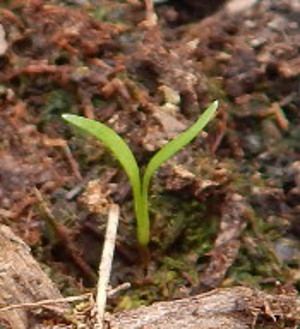 Planting Carrots Deeper
I can't be sure this is a carrot seedling, but it looks like one, only one that's a Hulk among carrots.
The impediment I've faced in trying to grow carrots is our dry atmosphere here in the high desert. We're 7,000 feet closer to the sun than people at sea level, so our sunlight is intense. In addition, or as a result, we have very dry conditions.
In years past my carrots came up and dried unless I kept them in the shade.
This year I tried planting some carrot seeds in my 24 inch pots, along with peas, collards and radishes. In the pot with less coir seedstarting mix, I don't see anything I can call a carrot seedling. But in the pot with quite a lot more core seedstarting mix there are several seedlings like the one at left. I'm so hoping they are carrots!
Once the secondary leaves come in, I'll be able to tell for sure.
3/19/2015 ~ I just learned, via a friend on Twitter, that carrot tops are not poisonous as I had somehow come to believe since I was a child.
Yes, You can eat carrot tops! ~ Read more.
Summary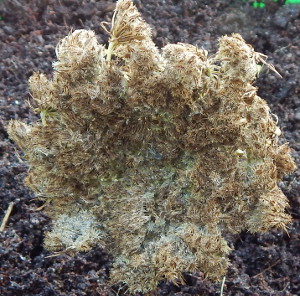 Article Name
Description
One of my carrot plants went to seed. There were masses of little white flowers that attracted tiny little bees.
Author