Growing our vitamins … GREAT! Fighting stress with flowers? Also GREAT!
Elissa Epel studies stress. Based on her ground breaking research she writes and lectures about how stress affects us, damaging our telomeres and causing us to rapidly age. It's worth your time to watch a lecture of hers. You may be surprised to learn we sometimes inflict the worse stress on ourselves.
Sometimes all you need to shift from being stressed to breaking-a-smile (instead of breaking the ends off your telomeres), is something beautiful in the here and now.
With that in mind, here are some plants from 1-800-Flowers that could shift your focus. My experience with anti-depressants was… depressing. My doctor failed to tell me that side effects were hair loss and weight gain.
$29.99 or Less
I ordered a bulb garden from Plow and Hearth that I love. It's in week 7 and still a delight. But, it was $39.99 and another $9 for shipping. So, I'm looking at these choices for a savings. Shipping from 1-800-Flowers is more, at $14, but since the daffodils are on sale for $19.99 and come with free gardening gloves, I think I'll give them a try for an overall savings of $14.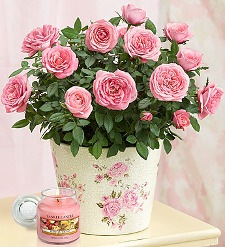 With or without the candle, this budding rose in it's vintage ceramic planter is smile-making.
Guaranteed not to cause hair loss or weight gain. It also makes me smile to realize I could have ordered three of these for myself instead of just one month's worth of anti-depressants.
.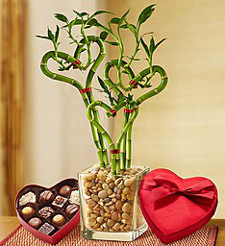 I used to collect heart shaped stones. I had a selection of them by my entry door. A friend visiting one day asked, "Do you know these stones are all shaped like hearts?"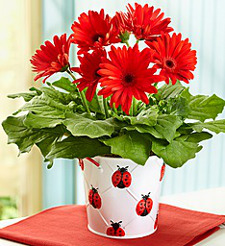 I'm going to order either this one or a similar yellow one. Gerbera's are an excellent plant for cleaning the air.
Last night one of my candles made a soot umbrella at the top of its wick. Not a good smell. I'm thinking a Gerbera in place for the future is a lovely idea.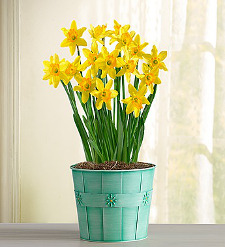 I love daffodils. For me, they are the ultimate Happy Flower. A small pot of them is $19.99. I think I may order these instead of the Gerbera.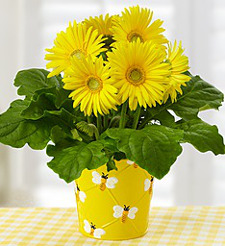 And yet, it's hard to abandon the idea of cleaner air as well as beauty.
$39.99 or Less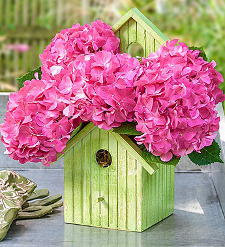 I wonder if I could put corrugated tin over the roof, to seal it, after the hydrangea's flowered and I transplant it into my garden.
I wonder if birds could actually use the birdhouse. It's a two story birdhouse.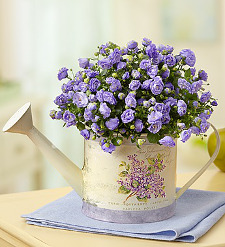 I've grown campanula from seed and been delighted by its flowers.
The French-look watering can is so charming. The pot is a bit smaller than 5 inches, so it would fit easily on my candle making table.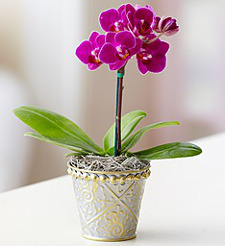 Moth orchids, like this one, are my favorite. I especially love when their roots come over the side of the pot. Seeing roots makes me almost as happy as seeing flowers. I think it's because they remind me how important our roots are.